Installing WordPress: The Issues You Might Face
Nowadays, installing WordPress is a piece of cake. Many reputable web hosting companies like Hostinger, SiteGround, etc. are providing a convenient single-click installation feature for WordPress. This effortless procedure makes WordPress installation exceptionally easy even for newbies.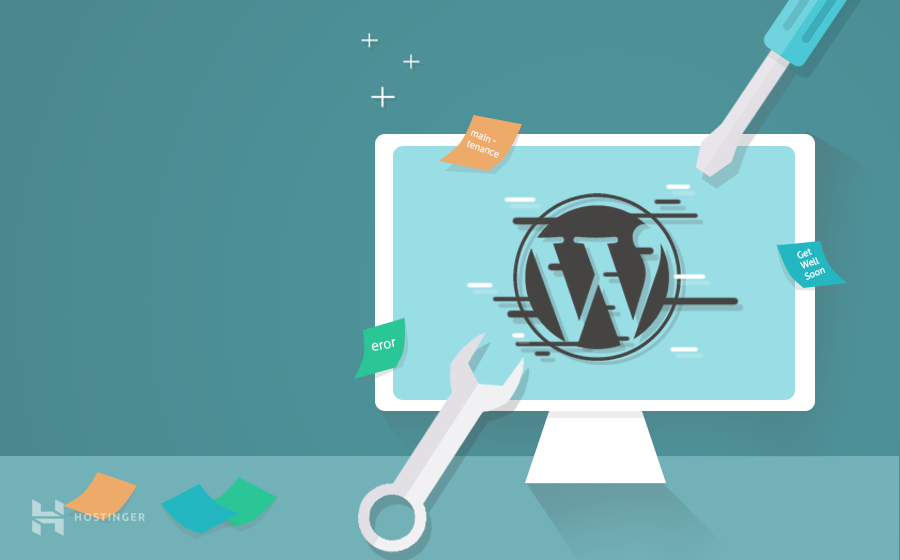 Though WordPress installation is user-friendly yet sometimes it can leave your site with some setup related issues that can be difficult to deal with. In this post, we will address some of the most common WordPress setup issues and quick solutions for them. It does not matter whether you use Shared or Private Server Hosting you still might face the following issues.
If you have decided to work with this amazing CMS platform, you must learn how to deal with various issues you may encounter while using it.
Error Establishing a Database Connection in WordPress
It is a common WordPress error that usually appears when your site is unable to connect to your database. There can be various reasons for it. However, the major one is a misconfiguration of database information in WordPress configuration PHP file.
Don't worry, fixing it is fairly easy. Just follow the steps given below.
Search for WordPress Configuration PHP file (wp-config.php file) in the root of your WP installation.
Check if the following information is correct.
DB Name
DB Username
DB Password
DB Host
Always remember that DB_host value is not always same as localhost. Depending on your host type it can be different. If these database credentials are not accurate, you can create new login credentials. For that, you need to access MySQL Databases, which is available in the control panel of your hosting provider.
Simply you need to click on MySQL Databases->Add New User. It will take you to a new page where you have to fill your new credentials.
Next, choose your new database credentials and also make note of them in your WordPress configuration file. Update wp-config file with these new credential details. It will ensure that you have correct credentials. Now try logging in your database. Hopefully, you are able to access your website now.
If you feel you need to seek advice from your hosting provider, don?t hesitate to contact them. A reliable web host should help you with all your issues related to hosting and website. Even a free web hosting company, 000webhost.com offers adequate support to their users through its forum, free knowledge base, blog, and tutorial.
Choosing an Incorrect Subfolder on Your site
It is one of the most common mistakes that most new WordPress users make. You might have visited a WP site and noticed that blog is placed in a subfolder like ?www.yourwpsite.com/blog?. This is a normal and acceptable scenario. However, if you see instead: www.yourwpsite.com/blog/wordpress.? It is something that can make your site look weird.
Perhaps, you are thinking what's the big deal? What is so wrong with an extra Subfolder. Let us tell you, this redundant folder can be bad URL from the SEO point of view.
It usually happens, when webmaster gets failed to eliminate the contents of the WP Installation folder and keep the files into a pre-named blog folder.
Don?t worry, there is a simple method to get rid of this error. You just need to upload the WordPress folder and rename it to 'blog'. It is as simple as that.
It is common WordPress set up mistake but you should definitely avoid it if you want neat and clean WordPress install.
Broken WordPress Installation?
It is another very common WordPress issue that can make anyone crazy. Although WP is an advanced CMS platform yet it has ability to break like any other software. There can be various reasons for it such as corrupted files, database issue, plugins are not working properly, etc. Don?t worry, you can easily fix a broken WordPress Install.
You can re-installed most of the WP files without causing any issue. To re-install your WP, go through the following steps.
Access your WordPress dashboard,.
Go to the ?Tools? option, available just above the Settings option.
Next, select Upgrade and then re-install option.
WP uses an inbuilt updater to re-install all the core file without causing any harm to plugin and theme files.
Not Able to Establish a Backup Plan
If you are not planning any backup for your site, definitely you?re playing with fire. You must find a good way to backup all of your files, images, posts, categories, tags, theme and .htaccess file.
There are two options to backup the data of your site:
Server backup
Plugins backup
Server backup is offered by your web host whereas plugin is a separate tool that uses PHP to connect to your server.
Server-side backups can be scheduled everyday and often considered a reliable backup system. Nevertheless, WordPress backup plugins are not a bad choice too. Some of the reputable WP backup plugins are:
BackupBuddy
BackWPUp
BackUPWordPress
Duplicator
UpdraftPlus, etc.
500 Internal Server Error in WordPress
Especially, if you are a beginner, you may find ?Internal Server Error in WordPress? quite confusing. It is not a WordPress specific error. It is usually caused by theme, plugins, corrupted .htaccess file and PHP memory limits.
Let?s see how you can resolve this issue.
First, you need to check if your .htaccess file is not corrupted. You may use file transfer protocol to access the root of your site. Next, search for the .htaccess file and rename it to something like .htaccess_old.
Now reload your file to see if the error has disappeared. If your site is working accurately, go to your WP dashboard-Setting->permalink and then hit ?save? button. WP will create a fresh .htaccess file.
Sometimes a newly installed plugin can be a source of this error. The simplest way to check which plugin is the actual offender, disable all the plugins installed on your site and re-activate them one by one. If you notice your website is running then the problem is definitely with one of your plugins. You can delete this plugin and reinstall it.
Final Words
We hope this guide will be helpful to begin your WordPress journey. If you?re facing any other issue while Installing WordPress, let us know we will try to provide a quick solution for that.