How to Start a Blog Online Using Wix
Anyone who has a website must have a blog. This is your primary medium for succeeding in the online arena. Setting up a blog with Wix is easy. This free website builder makes it simple for even the most inexperienced agent to set up their blog and begin posting within a matter of minutes.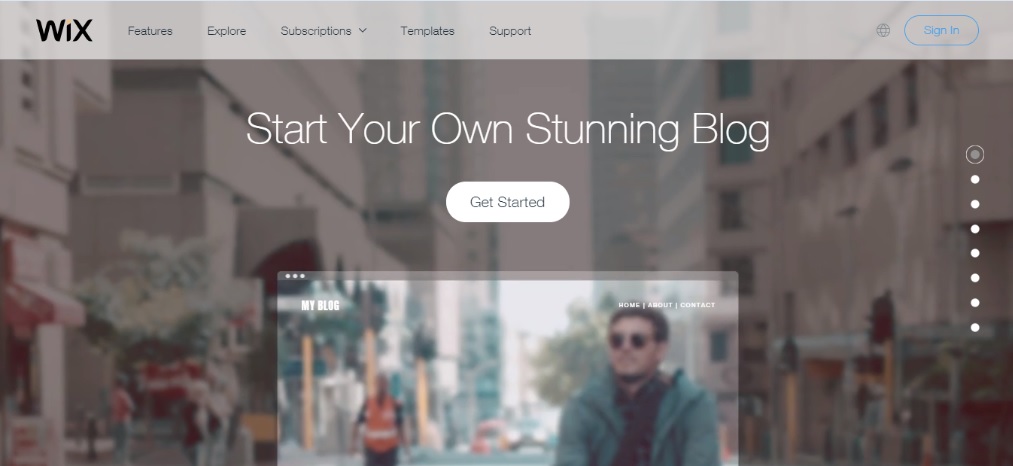 Let?s take a look at how you can start a blog online using Wix.
Step 1 ? Adding a Blog to Your Website
For the purposes of this guide, we?re going to assume that you have already built a basic website with Wix and you just need to add a blog to it.
Begin by navigating to the Wix editor and clicking the Blog button. You?ll find this by looking at the side menu. Press ?Add Now? and your new blog page will instantly appear on the main menu of your website.
So what happens when you click this button?
You can navigate to your blog and begin adding new posts at any time. It?s a simple shortcut that both adds a blog to your site and makes it easier to quickly make new additions.
Step 2 ? Arrange Your Layout
You now need to make changes to the template of your blog page to add in your branding and to make it really yours. There?s nothing more important than a unique look when doing business online.
You can change everything from the fonts to the images to the colors. We recommend always changing everything about the template. Your blog should never look like someone else?s blog.
If you?re stuck on what to choose, think about what each color means and the emotion it communicates.
Remember that the elements you place in your blog aren?t permanent. You can make changes anytime you like. Elements you can use include: sign-up boxes, lists of recent posts, and a tag cloud.
Step 3 ? Naming Your Blog Right
The name of your blog is incredibly important for success of your blog. Make sure you think carefully about the name because it?s extremely difficult to start rebranding again later.
As a general rule, the name of your business should be revealed somewhere in the domain name, as well as what you actually do. You may even want to reference what you?ll be mainly talking about within your blog?s name.
Just be careful about getting too clever. You don?t want to inadvertently come up with a smart name that doesn?t actually have anything to do with your business or your blog.
Step 4 ? Covering Your SEO Needs
Your blog should also have certain SEO aspects in place. The last thing you want is for your blog to be perfect yet nobody can find it.
You should compile a number of key phrases around your subject. See what ranks and how much competition you have for each keyword and phrase. Remember that this can take many hours and it has to be updated on a regular basis.
Specifically, you should concentrate on Meta titles and Meta tags. The Meta title is what you see in Google and the Meta tags will go a long way to deciding where you rank in the search engine.
Just remember that anything you do write should be written for readers first and Google second. Without readers, your ranking on Google won?t matter.
Step 5 ? Check for Mobile Optimization
A few years ago Google made it mandatory for all websites to have full mobile optimization. This is because mobile browsing has surpassed desktop browsing by some way. Any website that doesn?t comply can expect to receive harsh ranking penalties from Google.
Wix offers automatic mobile optimization for all websites. You don?t need to perform any coding and the majority of people will find that their websites also look great on mobile devices without them having to do anything.
But it?s still wise to make sure of this anyway. Look up your website on a tablet and smartphone to see how it comes out. The chances are it will be great but it?s always good to check.
Step 6 ? Write Your First Blog
When you enter the blogging interface you?ll be able to see the various buttons in front of you. Click the one that allows you to add a new post. Begin writing your first blog, while keeping your audience in mind.
Later on you can upgrade your Wix blog with various sharing buttons and other cool features to engage your readership with.
It really is that easy!
Last Word ? Wix Made Easy
Wix is one of the easiest website building interfaces to learn how to get a blog set up on. This guide will have your blog up and running in no time at all.
Do you have any other questions about setting up a Wix blog?