The Best Tools to Create Free PDF Templates
Looking for a Blank PDF Template? Try These Easy-to-Use Apps and Software
PDF Template Download or Creator Programs:
Adobe Acrobat Reader
JotForm
PDF-XChange Editor
PDF Candy
Lumin PDF
Why These Apps/Programs?:
A mix between free and premium
1,000+ ready-made downloadable forms for any occasion
Create, edit, annotate and sign with most of them
Splitting and merging made easy
Cross-compatibility with many file types and platforms
Getting a high-quality, professional-looking PDF document is a sometimes necessary thing in the digital world. PDFs make life a lot easier for a lot of people thanks to their ability to compress large amounts of text into one file. They also make it easier to create, edit and share important documents.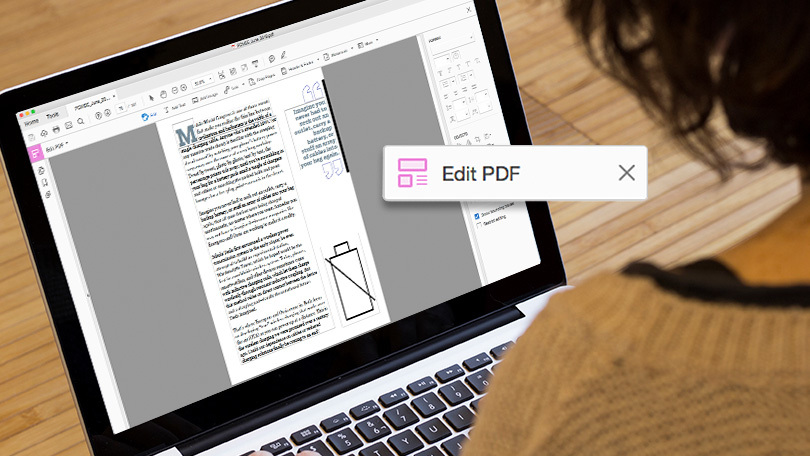 When you need a PDF document fast, you could take the time to create one, if you know what you are doing. If you want something quick and easy, these free PDF templates can help you make outstanding PDF business templates, marketing proposal templates, or simple business proposal examples or for whatever else you need. 
PDF Templates and Tools To Make PDF Forms
The following tools start with basics like having a wide range of pre-made PDF templates. But a few allow users to change those templates to fit their needs whether they be editing, merging, splitting, and annotating features. They are mostly free to use, but a few have premium versions that come with upgraded features – which tools and which are free will be noted in each review.
Adobe Acrobat Suite
PDF Tools For Beginners and Professionals
The original creator of the PDF format, Adobe features several different types of programs to use, create, edit and merge PDF files from the original Adobe Acrobat Reader to premium versions like Adobe Acrobat Pro. Users should choose their preferred tool from the Adobe Acrobat arsenal based on what they need. The free Adobe Acrobat Reader is available from the company's site and lets users view, edit and print out files from the PDF format, as well as offering several ready-made templates. The premium versions are available to those who work with PDF formats regularly and offer more features like scanning PDFs, importing them from other programs, as well as being able to create editable PDFs from scratch.
Features
The suite offers different programs at varying prices
A lot of cross-compatibility with other programs and applications
The most universal and widely-used PDF tool
A lot of capabilities from editing, creating, signing, annotating, etc.
JotForm
Easy-to-Use Online Form Builder
JotForm is an online tool that has thousands of easily accessible, pre-made templates in many file formats, including but not exclusive to, PDFs. The site is truly interactive as members can upload their self-made templates in different formats for the whole community to use. JotForm has a free, starter version for new users. Several other premium versions are upgrades to the limited features of the first. The other versions are color-graded with bronze, silver, and gold versions, gold being the highest-tier. Among its tools are a PDF editor and reader, as well as a Smart PDF Reader that lets users convert different file types into PDF and increase the level of interaction with them.
Features
Able to integrate with over 100 different platforms (Google Drive, Sheets, Dropbox)
A wide range of available premade forms and templates (more with premium access)
Forms and templates range from medical forms to contracts and other official forms
Read, edit, annotate and fill in several online file-formats including PDFs
PDF-XChange Editor
A Feature-Rich PDF Reader and Editor
The PDF-XChange Editor grew from the original program, which was the XChange Reader that only lets users view PDF files. As the name implies, the XChange Editor lets users do much more than view PDFs. The Editor comes in a free download but there are premium upgrades within the application that users can purchase. The Editor Plus version allows users to create and edit fillable forms that can then be shared widely. The basic Editor still offers a bevy of different features like reading, editing, and correcting text, as well as the ability to add different image types from graphics and charts to photo files. There is even a text recognition that comes with the free version in a select number of languages, but the Pro version unlocks more languages.
Features
The basic package comes with a wealth of features like editing, writing, and correcting
The basic package also allows for adding images
Text recognition feature in English, Spanish, German (more languages in Pro version)
Pro version lets users create editable PDF forms
PDF Candy
Premium Online PDF Tools
PDF Candy offers a sizable amount of features for editing, reading, annotating, and converting PDFs and other file formats. PDF Candy, however, only offers these features in paid, monthly, or yearly subscription plans. There are no free versions of the software but the starter plan costs only $6 to register. There are a lot of features that come with the starter plan including editing, writing, highlighting, and editing PDFs. Converting files into a myriad of different formats also figures heavily in PDF Candy's offerings. Users can choose from several different platforms like Google Docs, Sheets, and even HTML to convert either into PDFs or from PDFs.
Features
The basic paid package allows for editing, merging, cropping, and compressing PDFs
Paid packages unlock 44 different PDF tools
File conversion feature open to many different formats
Desktop version available for Microsoft Windows
Lumin PDF
A Quick and Easy Way to Manage PDF Files
Lumin PDF is an easy-to-use PDF reader and editor that has cross-compatibility with many different document platforms like Google Docs and Word. It also has seamless connectivity with storage platforms like Google Drive and Dropbox so users can save, send and access their files across several devices. Lumin PDF is available as a free download, but there are premium versions available that unlock more features like OCR text recognition, editable PDFs formats, and the ability to scan documents to turn them into a PDF. Registered users can also download the Lumin mobile app to have even greater access to their files and edit on the go.
Features
Easy integration with other document platforms
The ability to access files and edit them from anywhere with a mobile app
Edit, highlight and annotate with the free basic package
Premium version allows for PDF creation and text recognition